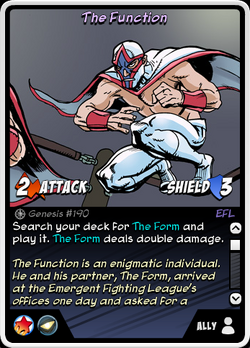 The Function (Genesis, #190) is a Rare Ally card with 2 Attack and 3 Shield. It has the Psych and Reflex badges.
Card Effect
Search your deck for The Form and play it. It deals double damage.
Card Description
The Function is an enigmatic individual. He and his partner, The Form, arrived at the Emergent Fighting League's offices one day and asked for a meeting with Devastatrix. What they discussed and what agreements they made are unknown, but the two masked men were given contracts in the EFL.
He's a quick and nimble fighter, who uses his cunning and speed to outfox his opponents. He also seems to bring out the best in his partner, The Form, who fights with far better proficiency when The Function is near by.
Other Versions
Edit
How to Obtain
| Basic Packs | | Advanced Packs | |
| --- | --- | --- | --- |
| Honor | | Cosmic | |
| Glory | | Prestige | |
| Draft Exclusive | | Draft | |
| Win From Battle Only | | Specific Crafting | |
| --- | --- | --- | --- |
| Issue: | N/A | Forge Section: | N/A |
| Enemy: | N/A | Materials: | N/A |