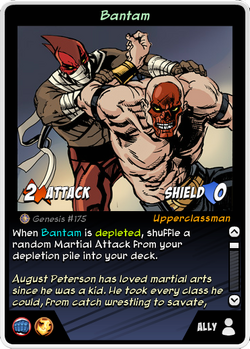 Bantam (Genesis, #175) is an Uncommon Ally card with 2 Attack and 0 Shield.
Card Effect
When Bantam is depleted, shuffle a random Martial Attack from your depletion pile into your deck.
Card Description
August Peterson has loved martial arts since he was a kid. He took every class he could, from catch wrestling to savate, and dreamed of becoming an MMA Fighter. August was rolling with a sparring partner in a jujitsu lesson when his powers first emerged, leading to him inadvertently dislocating his opponent's shoulder with an unexpected burst of strength during an armlock.
The experience was ample evidence that he and to give up his beloved hobby, at least at conventional gyms and dojos. But when one door closed, another opened. August became a student at the Phaeton Project - a place where he could spar with people in his own weight class, so to speak.
An upperclassman now, and Moxie's best pupil, he spends much of his free time helping to train freshmen. However, he still feel the lure of the ring. The Emergent Fighting League fascinates him, and as a consequence he often ends up in the same places as The Crimson Mark and Diamonoid - trying to see how his strength and skill measure up to theirs.
How to Obtain
| Basic Packs | | Advanced Packs | |
| --- | --- | --- | --- |
| Honor | | Cosmic | |
| Glory | | Prestige | |
| Draft Exclusive | | Draft | |
| Win From Battle Only | | Specific Crafting | |
| --- | --- | --- | --- |
| Issue: | N/A | Forge Section: | N/A |
| Enemy: | N/A | Materials: | N/A |